News
Subscribe to posts
Storm Desmond was raging outside, but that didn't deter people from coming to Kiskeam Church
on Friday
night 4th December to see and hear 
The Band of the 1st Southern Brigade
. It's safe to say that the audience was blown away with what they heard on the night. 
The festive season had just about set in, it being the first week in December. The
night in question, did not lend itself very well to travel though, as one of the biggest storms of the winter was making every journey a challenge. They turned out in their droves however to hear the Army Band play in Kiskeam and by the end of the night everybody's face wore a big smile.
The 30 piece band was led off by conductor Captain Brian Prendergast, who was also the MC for the night. The colour of the Band setup was striking and the various trumpets, trombones and tubas glistened in the lights of the Church. Some of the younger members were playing with the Band for the first time and one bandman was playing with them for the last time ever.
The programme was very varied and ranged from Military Marches to Michael 
Bublé
 and from a Disney Mix to 
Les Misérables
. There was the unexpected treat of great singing by some multi-talented band members and a sprinkling of festive favourites were included given the time of year. The audience was encouraged to join in the singing and they did!
Everyone from the youngest to the oldest were enthralled by the magical event unfolding before their eyes. 
Then came the sad part. The final piece. When it was finished, the Band got a standing ovation and pleas for an encore. They got it, of course. When that was over, the crowd sat again with all eyes on the Band, to see if perhaps they might strike up another tune. Having given 2 hours of superb entertainment, the musicians agreed to one, very last piece. Then the Conductor had to tell everyone it was time to go home! This night just might have been one of the most memorable evenings ever to take place in Kiskeam.
Half of the proceeds went to 
St. Joseph's Foundation in Charleville
who do great work in the community. The event was hosted by the
newly revived Kiskeam Brass Band
to raise awareness and and to put together some funds to buy instruments. It succeeded in doing both! The Band is now seeking new members and anyone interested in getting involved should contact Anne-Marie on 
087-7421696
.
Everyone is looking forward to hearing their first performance!
The trombone, trumpet and tuba are once again set to respond along the banks of the Araglen as a new generation of Kiskeam natives revive the golden era of Kiskeam Brass Band of yesteryear.
Organisers hope to recruit interested people who are willing to rehearse weekly with the aim of performing at 
culture events during the 1916 commemorations next year.
There is already great enthusiasm within the local community regarding the proposal and a meeting will be held in Kiskeam Community Centre next Monday at 8pm to further discuss the project. Member of Brass Bands from other areas will attend to offer advice and information. 
The original Kiskeam Brass Band evolved following the arrival of shoemaker Timothy Kiely to the village in 1895. Tim, who had been a member of the Millstreet Band, helped the Kiskeam group of musicians become a hugely popular Brass Band that played at numerous key events throughout Duhallow and beyond from around 1916 until the band petered out in the late 60s.
Some of the former members such as Maurice O' Keeffe and John Paddy Joe Murphy Murphy surely have wonderful tales to tell of the life and times of the Band in it's heyday.
Any would be musicians interested in joining the new Kiskeam Brass Band can contact Ann Marie O' Keeffe on 087-77421696 or John J Murphy on 086-8124479.
Taken from the Corkman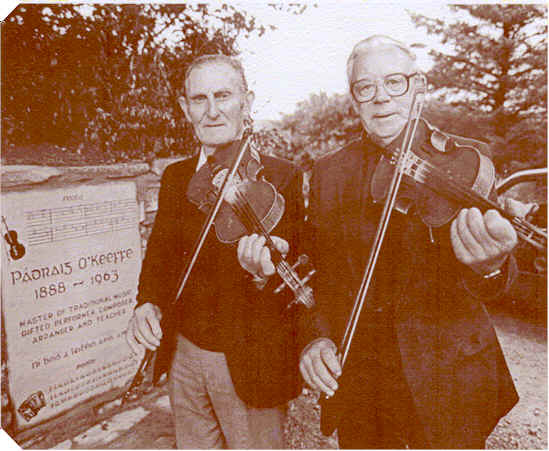 Tom Carroll aged 91 was a musician who was known far and wide for his skill and talent with the fiddle. He played along side Maurice O' Keeffe often at the
"Maurice O' Keeffe Weekend". 
Tom not only played, but he also taught his own grandchildren and several other children around Kiskeam to play and love their instruments. Tom was loved dearly by his wife, family and friends. He will be missed greatly.
RIP Tom Carroll
Lying in repose at Casey's funeral home on Monday evening from 6pm to 8pm followed by removal to the Church of the Sacred Heart Kiskeam.Requiem mass on Tuesday at 12 noon followed by burial to Kiskeam Cemetery
The website will be expiring on the 
05/04/2015
. We are looking for sponsors for the year. We will display an Add at the side of our website and we will put up an article on our Facebook Page Thanking you! As of now the website is very successful receiving of 1000 views a month and our Facebook Page has over 350 likes and several interactions.  100% of the sponsorship money will go back into the website making it better and more interactive every year! 
If you are interested please contact us at kiskeamarea@gmai.com
Thanks for all your support. 
It's Just Kiskeam…
No heavy trucks,
passing by,
There is just light chatter
in the "Why Not" bar.
And in the two quiet shops,
a little boy recites a rhyme,
and a little girl sings…
You have kept your secrets -
your mysterious footprints,
and your famous fiddler.
Your memories are cast in stone -
of your poet,
your beloved priest
and your ancient dwellings.
Perhaps no loud trumpet blows for you,
perhaps no loud cry shouts your name.
But you are -
wonderfully, gloriously and simply-
Kiskeam!

Visit our website for all the latest news, photos, reports, etc. If you have anything you would like too share with us please send it to us at kiskeamarea@gmail.com or on Facebook or Twitter. 
We are building up a bank of pictures, stories, songs and historical items from Kiskeam Village and the surrounding area, and we need your help. 
So what kind of items might be of interest? Almost anything really. Maybe you have old pictures of the village, stories of yore, old census information, articles from the newspapers and so on. We will then be able to upload them here for everyone to enjoy. They will also be shared on our Social Media channels to get further reach. We will also give credit to you (if you wish), and to any photographers or article writers if they are known.
Please do send them along so that we can share them with everybody!
The 57th annual Seán Moylan Commemoration will be celebrated in Kiskeam on Sunday,
November 16.  
Mass will be held at 12 mid day and afterwards, there will be a parade to Sean 
Moylan's graveside, where former Kerry All Ireland winning footballer and RTE panelist, Tomás O' Sé will give the Oration.
A wreath will be laid at the grave and a decade of the rosary will be recited.